Common Foot Disorders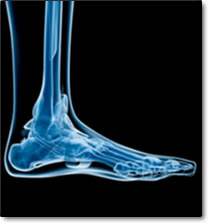 Did you know the foot has 28 bones, 37 joints, 107 ligaments, 19 muscles, and numerous tendons? These parts all work together to allow the foot to move in a variety of ways while balancing your weight and propelling you forward or backward on even or uneven surfaces. It is no wonder that most Americans will experience a foot problem that will require the care of a specialist at one point or another in their lifetime.
Click on the categories below to read articles on foot disorders and conditions. You may also use the search button below.
Please refer to FootHealthFacts.org for information on the disorders affecting the lower extremity and the methods we use to treat them. Click on the links below to view patient education material.
A | B | C | D | E | F | G | H | I | J | L | M | N | O | P | R | S | T | W
Accessory Navicular Syndrome
Achilles Tendon Rupture
Acute Inflammation
Ankle Fractures and Broken Ankles
Ankle Pain
Ankle Sprain
Arch Pain
Arch Supports
Athlete's Foot
Black Toenails
Bone Healing
Bunions
Calcaneal Apophysitis (Sever's Disease)
Calf Pain
Callus
Capsulitis of the Second Toe
Cavus Foot (High-Arched Foot)
Charcot Foot
Chronic Ankle Instability
Cold Feet
Common Disorders of the Achilles Tendon
Contact Dermatitis
Corns
Cracked Heels
Custom Orthotic Devices
Deep Vein Thrombosis
Diabetic Complications and Amputation Prevention
Diabetic Foot Care Guidelines
Diabetic Peripheral Neuropathy
Diabetic Shoes
Eczema of the Foot
Equinus
Extra Bones
Fallen Arches
Flexible Flatfoot
Foot Bumps
Foot Fracture
Foot Lumps
Foot Odor
Foot Rash
Fractures of the Calcaneus (Heel Bone Fractures)
Fractures of the Fifth Metatarsal
Ganglion Cyst
Gout
Haglund's Deformity
Hallux Rigidus
Hammertoes
Heel Pain and Plantar Fasciitis
Ingrown Toenails
Instructions for Using Crutches
Joint Pain in the Foot
Joint Swelling in the Foot
Lisfranc Injuries
Malignant Melanoma of the Foot
Morton's Neuroma
Nail Fungus
Os Trigonum Syndrome
Osteoarthritis of the Foot and Ankle
Pediatric Flatfoot
Peripheral Arterial Disease (P.A.D.)
Peroneal Tendon Injuries
Plantar Fasciitis
Plantar Fibroma
Plantar Wart (Verruca Plantaris)
Posterior Tibial Tendon Dysfunction (PTTD)
Puncture Wounds
Restless Legs
Rheumatoid Arthritis in the Foot and Ankle
Sesamoid Injuries in the Foot and Turf Toe
Shin Splints
Shoe Inserts
Smelly Feet
Soft Tissue Biopsy
Stress Fracture in the Foot
Sweaty Feet
Swollen Ankles
Swollen Feet
Tailor's Bunion
Talar Dome Lesion
Tarsal Coalition
Tarsal Tunnel Syndrome
Thick Toenails
Tingly Feet
Tired Feet
Toe and Metatarsal Fractures (Broken Toes)
Turf Toe
Varicose Veins
Weak Ankles
White Toenails
Yellow Toenails
DISCLAIMER: *MATERIAL ON THIS SITE IS BEING PROVIDED FOR EDUCATIONAL AND INFORMATION PURPOSES AND IS NOT MEANT TO REPLACE THE DIAGNOSIS OR CARE PROVIDED BY YOUR OWN MEDICAL PROFESSIONAL. This information should not be used for diagnosing or treating a health problem or disease or prescribing any medication. Visit a health care professional to proceed with any treatment for a health problem.